PRODUCTS
CONTACT US
Phone: 020-3479-5910
Fax: 020-34550019
Mobile:+86-13570037596
Contact person:Wendy Long
Email:sales@meiformer.com
meiformer@meiformer.com
Address: Nan Sha Da Dao, Da Jian Village, Dong Chong Town, Nan Sha District, GuangZhou, China.
Home > Products > Sheet Metal Machines
Spot & Seam Welding Machine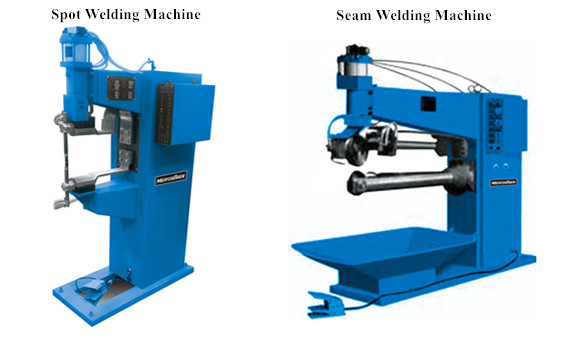 Optimal use high-quality steel body design of the mechanical structure of the overall appearance and good rigidity.
Integration of the electrode body pressure, gas is short, compact, faster response, installation and maintenance more convenient.
Suitable for low carbon steel, stainless steel and other materials, pots, barrels, pipes and welded thin-walled containers.
With vertical and horizontal welding in two forms,to adape to a variety of workpiece welding.
Spot Welding Machine
| | | | | | | | | |
| --- | --- | --- | --- | --- | --- | --- | --- | --- |
| Model | | DN-25 | DN-40 | DN-60 | D(T)N-80 | D(T)N-100 | D(T)N-150 | D(T)N-200 |
| Capacity | KVA | 25 | 40 | 63 | 80 | 100 | | 200 |
| Max input | KVA | 45 | 73 | 122 | 166 | 222 | 296 | 386 |
| Size of arm | mm | 220*500 | 220*500 | 220*500 | 220*500 | 220*500 | 220*500 | 220*500 |
| Electrode stroke | mm | 60 | 30/60 | 30/60 | 30/60 | 30/60 | 40/100 | 40/100 |
| Wight | kg | 220 | 280 | 340 | 380 | 400 | 750 | 790 |
| Electrode | mm | 13 | 16 | 16 | 16 | 16 | 20 | 20 |
| Electrode arm | mm | 50x50 | 60x200 | 60x200 | 60x200 | 60x200 | 80x240 | 80x240 |
| Welding station | mm | / | 110*130 | 110*130 | 120*130 | 120*130 | 150*160 | 150*160 |
| Welding capacity | | 2.5+2.5 | 3.0+3.0 | 3.5+3.5 | 4.0+4.0 | 4.5+4.5 | 5.0+5.0 | 6.0+6.0 |
Seam Welding Machine
| | | | | | |
| --- | --- | --- | --- | --- | --- |
| Model | | FN-25 | FN-40 | FN-80 | FN-150 |
| Rated Capacity | KVA | 25 | 40 | 80 | 150 |
| Electrode stroke | mm | 50 | 50 | 60 | 60 |
| Welding Speed | | 0.6-3.5 | 0.6-3.5 | 0.6-3.5 | 0.6-3.5 |
| Welding capacity | mm | 0.4+0.4 | 0.6+0.6 | 1.0+1.0 | 1.2+1.2 |
| Motor Power | W | 120 | 120 | 220 | 370 |
| Water | L/min | 15 | 20 | 20 | 30 |
| Weight | kg | 280 | 350 | 500 | 800 |