PRODUCTS
CONTACT US
Phone: 020-3479-5910
Fax: 020-34550019
Mobile:+86-13570037596
Contact person:Wendy Long
Email:sales@meiformer.com
meiformer@meiformer.com
Address: Nan Sha Da Dao, Da Jian Village, Dong Chong Town, Nan Sha District, GuangZhou, China.
Home > Products > Square Duct Machines
Standing S Cleat Forming Machine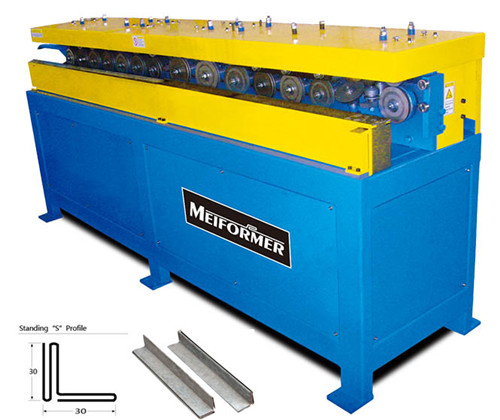 The Standing S Cleat machine has 12 forming stations to form sheet metal into a standing S cleat, the standing S cleat is a roll shape that combines a conventionl S cleat with a standing seam for greater strength and rigidity. High precision needle type bearings, heavy chassis plate, case hardened and ground roll shafts, and an arc-welded steel stand protected with top quality primer.
Model

Thickness(mm)

Roller (station)

Max. speed

(m/min)

Power

(KW)

Weight(KG)

Dimension

(mm)

ML-20SS

0.5-0.8

12

8

2.2

1800

2300×700×1100