PRODUCTS
CONTACT US
Phone: 020-3479-5910
Fax: 020-34550019
Mobile:+86-13570037596
Contact person:Wendy Long
Email:sales@meiformer.com
meiformer@meiformer.com
Address: Nan Sha Da Dao, Da Jian Village, Dong Chong Town, Nan Sha District, GuangZhou, China.
Home > Products > Square Duct Machines
Duplex TDF/TDC Flange Machine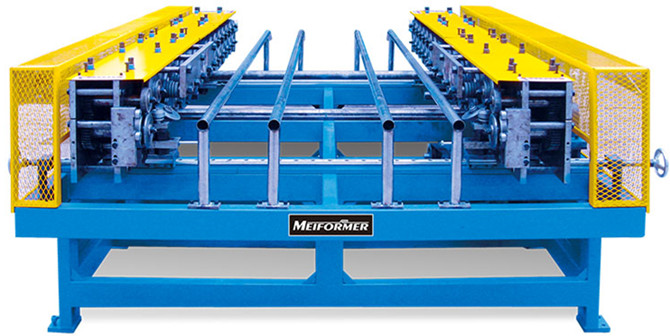 Duplex TDF/TDC Flange Machine MEIFORMER company designed the very nice TDF/TDC machine base on advanced, technical in the word. Our product use good material and nice manufacture rolls, high precision needle-type bearing, heavy chassis plate, Strong box, case hardened and ground roll shafts, Also have arc welded steel stands. Those design promise the machine high quality and long work life. It will take you cost saving benefits.
Model

Thickness
(mm)

Rolls

Max speed

Power
(kw)

Weight
(KG)

Dimension(mm)

2-MT-12C

0.4-1.2

2-14

8M/Min

5.5

3000

2500×2300×1150

2-MT-12U

0.4-1.2

2-16

14M/Min

5.5

3200

2800×2300×1150

2-MT-15U

0.7-1.5

2-20

14M/Min

5.5

3600

3600×2300×1150

2-MT-16U

0.5-1.2
(stainless)

20

14M/Min

5.5

3600

3600×2300×1150