PRODUCTS
CONTACT US
Phone: 020-3479-5910
Fax: 020-34550019
Mobile:+86-13570037596
Contact person:Wendy Long
Email:sales@meiformer.com
meiformer@meiformer.com
Address: Nan Sha Da Dao, Da Jian Village, Dong Chong Town, Nan Sha District, GuangZhou, China.
Home > Products > Square Duct Machines
Plasma Cutting Machine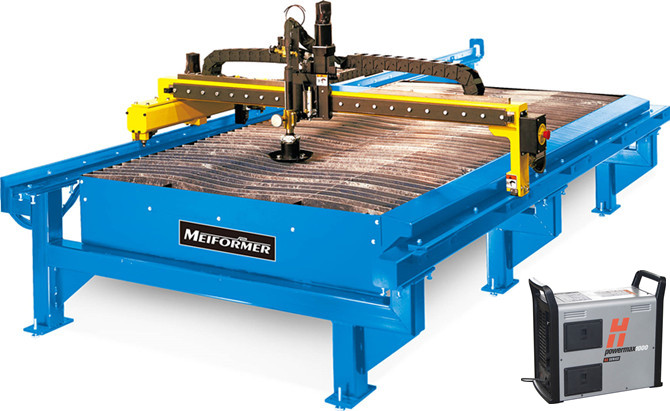 Machine introduction and Technical Parameter

MEIFORMER company CNC plasma machine is especially design for duct industry. It is used in cutting all kinds of duct joint. it will be short the duct joint manufacture time, fast the delivery time. Because adopt computer automatically typeset, it will save the material. MEIFORMER plasma machine choice Strong and steady frame, have strong function duct software, advanced CNC system and world famous plasma power supply U.S.A HYPERTHERM company's product, let our product are high quality NEW TECHNOLOGY AND INNOVATIVE DESIGN The M-3000 features an economical belt drive system.

Model

Thickness
(mm)

Tolerance
(mm)

Max speed
(M/Min)

Cutting Table
(mm)

Weight
(KG)

Dimension
(mm)

M-3000

0.4-9

±0.5

20M/Min

1500×3000

1300

4170×2060×1480

M-6000

0.4-9

±0.5

20M/Min

1500×6000

1800

7170×2060×1480
Machine Feature: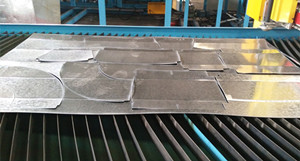 Hypertherm plasma; - USA POWERMAX 45 plasma cutter

CNC touch computer control System

Duct special software: CAMDUCT PM2000 software
Cutting Thickness:Max10mm

Working area 1500x3000 mm,

CAM DUCT software pm2000 with ventilation library standard duct joint cutting software
Plasma feeding system
This machine is desighned to feed a plasma cutting table.it have drive and beading roll to feed and remove coil set and beading from material.it is comprised of a drive motor.the operator uses an on/off switch attached to an electrical cable to adwance the material.operate easy and convenient.this allows the operator to feed the material to proper location along the plasma table.