PRODUCTS
CONTACT US
Phone: 020-3479-5910
Fax: 020-34550019
Mobile:+86-13570037596
Contact person:Wendy Long
Email:sales@meiformer.com
meiformer@meiformer.com
Address: Nan Sha Da Dao, Da Jian Village, Dong Chong Town, Nan Sha District, GuangZhou, China.
Home > Products > Square Duct Machines
Duct Manufacture Line 7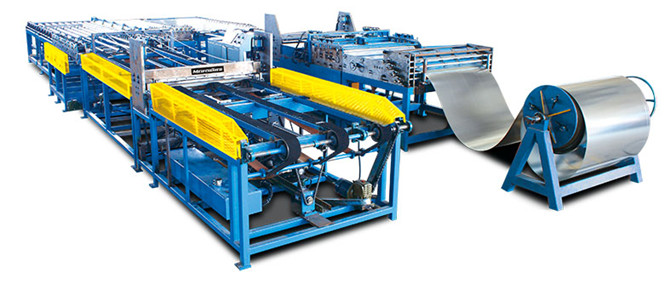 Duct Manufacture Line 7 is GDF Flange Automatically Duct Line7 is special design for Europe duct flange Standard(DW-144) , it is modular design with different flexible work stations. It

produces duct from coil stock to ready-to-assemble are L shape, U shape, All wraped duct section

with formed connections including pittsburgh lock , beaded and duplex GDF flange. Automatically
bending L shape, U shape, All wrapped duct section and seam close, The customer can choose

different function depend on different requirement.
This line uses an enhanced rack industrial CNC control system and MEIFORMER special duct

manufacture software.PLC control,you just need input the duct production line for the satisfaction

of your production of qualified duct it is automatic very well,can help you save labor cost and material.

Specification:
Coil thickness:0.4-1.2mm
Part width:1000-1300mm.1500mm option
Part length tolerances:±0.5mm
Diagonal tolerances:±0.8mm
Processing speed:(up to)18m/min
Driven:hydraulic drive
Power:32kw