PRODUCTS
CONTACT US
Phone: 020-3479-5910
Fax: 020-34550019
Mobile:+86-13570037596
Contact person:Wendy Long
Email:sales@meiformer.com
meiformer@meiformer.com
Address: Nan Sha Da Dao, Da Jian Village, Dong Chong Town, Nan Sha District, GuangZhou, China.
Home > Products > Round Duct Machines
Spiral Tubeformer (Tool Model) 1300
Spiral tubeformer also called spiral machine, by forming the mold design, molding to ensure

standardization, easy to install. Formed to ensure efficient high-quality sealing seams and

high-quality sealing seams and high strength. Replacement of mold and easy operation, fast.

Cutting Size can choice Roller shear, Plasma Cutting or saw cutting.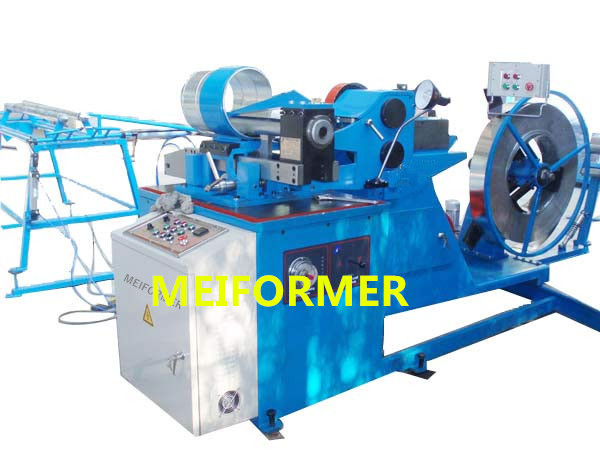 Model

MDL-1-1300

Tube Diameter

Ф100-Ф1300mm

Material width

137mm

Material thickness

galvanized steel:0.5-1.0mm

Decoiler

inner coil: Ф460-520mm

Max. loading:1200kg

The decoiler is drove by a miniature motor on the slide to adjust feeding angle .

Seam lock

the surface of ducts

Feeding speed

0-35m/min,adjustable

Cutter

roller shear (no burr)

Driven System

Cutting and turning flange adopt air-power

Compaction of feed rolls adopts hydraulic power

Mould

Steel

Total weight

1800kg

Diameter

Main machine:3300x1850x1600m m

Run out table:2000x1100x1100 mm

Power:

Total power 12.5KW.

Electrical source:

380V/50Hz/3ph (or by customer requirement.)

Console

Push buttons panel